From the 11th century , fur was worn as a symbol of wealth and status. European monarchs used it as a status quo and a representation of their power during their reign. Queen Elisabeth II is the UK's longest serving monarch and undoubtedly the most loved One. In her 70 years on the throne, her style and fashion choices have been impeccable and everything she wore had been carefully chosen in a unique and unforgettable way! Her majesty the Queen, had to stand out in every appearance she made and be seen by everyone in the crowd. This explains her colorful choices and the use of the best quality materials. Real fur was undeniably one of her favorite. You could see furry details in the collar and cuffs in many of her coats .
Other times she would go for a total fur coat, with an addition of fur accessories like of course the hats she always loved to wear, gloves, bags, collars..! Just name it…. She wore it!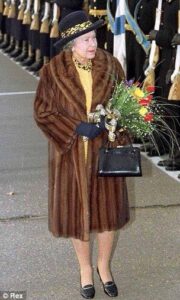 Let's have a look in some of her most memorable appearances in fur!
1) Here you can see the Queen, in a morning winter appearance wearing a total mink coat, in a long line! Stylish and classy !
2) In this marvelous formal appearance, her majesty chose an astonishing white fox étole, to keep her warm ,maintaining her royal style!
3) There was no one who loved hats more than the Queen! In all these photos you can see her wearing beautiful hats , and colorful coats with fur details on the cuffs and collars!
4) Who can forget this amazing red coat with chinchilla details on the cuff, collar and hat?
5) In this beautiful peachy long lined coat, the Queen chose a sable collar to upgrade her look!
6) Nothing could match this stunning black dress more than a mink étole in natural colors!
Queen Elizabeth wore fur in most of her public commitments and the way she dressed was a means of communicating with the people, always Royal but still approachable. Her death on September 8 ,2022, is a landmark and the end of a great era but her spirit and legacy will remain alive forever!